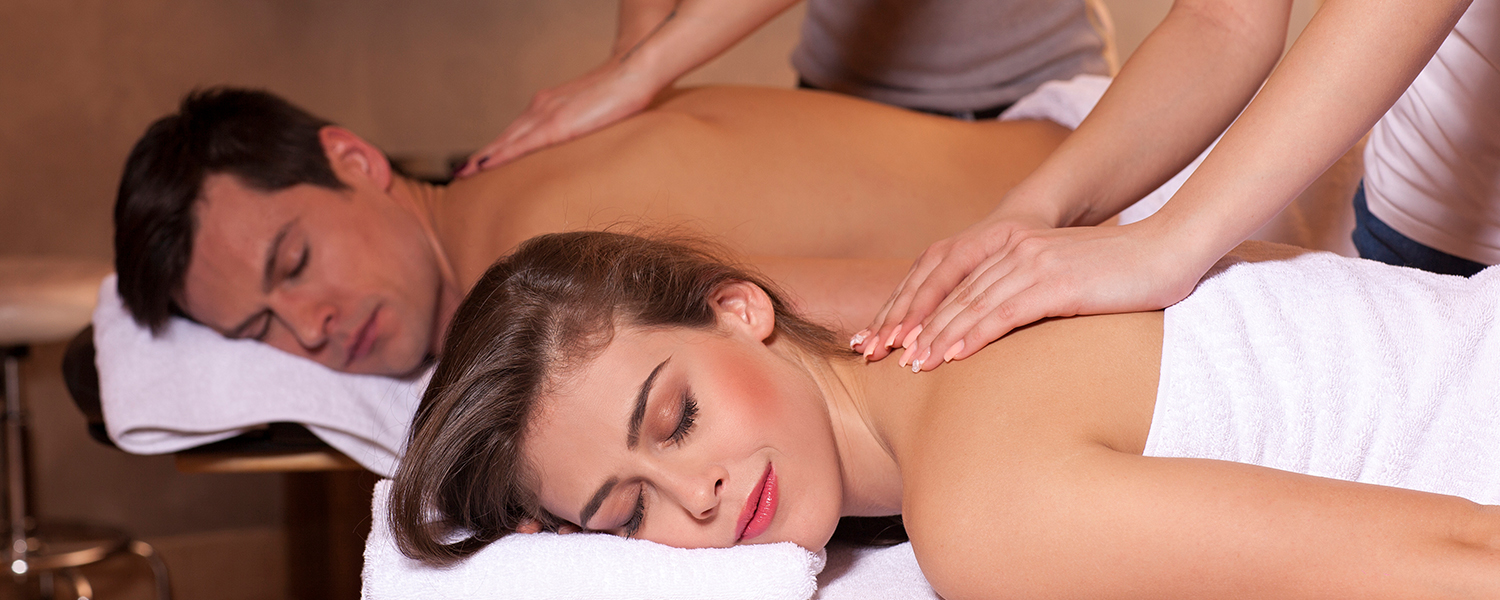 The art of massage is ancient. Massage is one of the best ways to relieve stress and tension or to simply stimulate tired muscles, increase circulation, and bring relaxation.
The kneading and long strokes used in Swedish Massage increases circulation, improves skin and muscle tone and soothes tired muscles.
50 Minutes

$75

80 Minutes

$120

Chair Massage

(15 minutes)

$25
Who needs dinner and a movie when you can steal an hour away just for the two of you to relax, unwind, and de-stress? Experience the essence of sharing your time at the spa with a friend or loved one in our relaxing room. Perfect for any occasion.
Champagne Scrub with Massage
This incredible treatment starts with a full body exfoliation that will smooth and re-hydrate your tired skin. The delicious scent stays with you as you enjoy a warm shower to get ready for your massage. An application of our rich butter cream follows, and as if that weren't enough, a 50 minute Swedish massage brings you to a state of ultimate relaxation. A truly magical experience.
Our treatment combines tension-releasing massage techniques with smooth basalt lava stones as an extenuation of your therapist's hand. The warmth and weight of the stones relax muscle tissue, allowing you to experience profound relaxation and balance.
Taking time for yourself during pregnancy can be uplifting emotionally. The soothing essence of massage allows pregnant moms to unwind and feel serene, healthy, and comforted during a period of added physical and emotional stress.
Full body massage with focus on specific painful, tight, or stressed areas using deeper techniques. Aiding the body to help heal itself.
Scalp, Neck, and Shoulder Massage
Indulge yourself in 30 minutes of sheer bliss, allowing your body and mind to drift away as your scalp is massaged. Your massage therapist works out tight-knots and tension in the neck and shoulders.
Himalayan Salt Stone Massage Therapy
Our full body Himalayan salt stone massage relaxes as it balances the central nervous system. This results in very deep relaxations, improves sleep and reduces inflammation in addition to mild exfoliation.
Our luscious scrubs whisk away dry parched skin while transporting you on a aromatic journey. Seasonal fragrances.
| | |
| --- | --- |
| Moor Mud Body Wrap | $85 |
| Wine Wrap | $85 |
| Seaweed Body Masque | $85 |
WE DO NOT ISSUE REFUNDS ON SERVICES AT ANY TIME